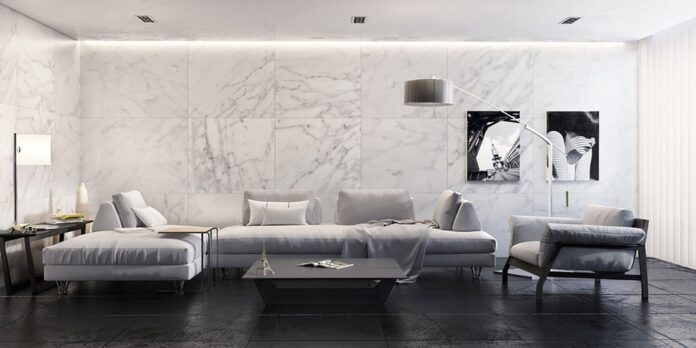 Marble wall panels are an updated and stylish way to add texture, color, and dimension to your home. Whether you're looking to spruce up a living room, bathroom, or bedroom, marble wall panels can be used in myriad ways that don't require major renovation or construction. Here are some chic ideas for incorporating marble into your home decor.
Elevate Your Home Decor with Marble Wall Panels
1. Marble Accent Walls
Accent walls are all the rage right now, and there is no better material than marble wall panels to use for this purpose. Whether you're looking for something minimalist or ornate, you can find marble wall paneling in various cuts and colors that will instantly give any room a facelift. For example, you can choose from natural stone-inspired slabs with various shades of grey or white veining patterns for an elegant look. Alternatively, there are also bolder options like a black marble with gold accents that will make a statement when used as an accent wall behind the bed in the master bedroom.
2. Marble Backsplashes
Marble backsplashes add instant sophistication while still having enough subtlety to fit into any style of kitchen design. For a minimalistic look, opt for slabs with thin veining patterns in neutral colors like grey or white. Alternatively, if you want something more luxurious and eye-catching, consider opting for slabs with thicker veins in bolder hues like green or blue! Plus, many marble backsplash panels also come with pre-cut shapes that allow easy installation without needing special tools or skill sets.
3. Marble Fireplace Surrounds
Fireplace surrounds made from marble are perfect for those who want to elevate their living room aesthetic without having to redo their entire fireplace setup. Marble fireplace surrounds come in various styles and colors, so you're sure to find one that fits your taste perfectly! You can find more traditional options like white carrara marble slabs with intricate veining patterns. Or go modern and opt for black marbles with gold flecks that are sure to catch people's eyes! No matter your style, this is sure to become the focal point of any room it's placed in!
4. Marble Wall Art
Marble wall panels don't have to be just used for practical purposes. You can also create stunning pieces of wall art with them. For example, try arranging various sizes of marble wall panels in unique shapes and patterns for visually interesting and one-of-a-kind artwork. You can also create a unique inlay by cutting out different shapes from various marble slabs and putting them together for a colorful and unique mosaic. The possibilities are truly endless with marble wall panels!
Conclusion
Adding marble wall panels to your home decor is a great way to create an elevated look without breaking the bank on major renovations or construction projects! With endless options available in terms of style and color, these durable yet affordable materials can take any room from drab to fab! So get creative and see how far these chic marble wall panel designs can take your home decor!